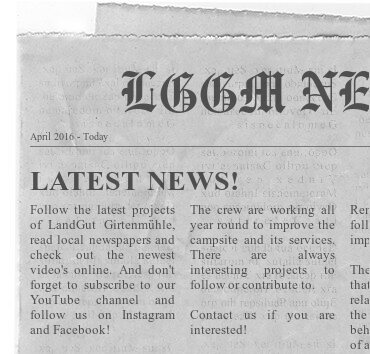 EXTRA! EXTRA!
Read all about it
At LGGM NEWS we are all about the giving you the latest news on current projects and developments.

Scroll through our history in the LGGM NEWSPAPER archive, watch our videos on our YouTube channel and read some intersting words others have written in local newspapers about our project!

Watch our video's on YouTube!
Click on our logo to find our channel and please subscribe 🙂
What guests say
Reviews
We camped here for a night and loved it. We will definitely be back! Fresh bread, friendly owners, clean bathrooms, and right on a walking trail and creek. 💜💜
Voor ons was het de tweede keer op deze mooie camping. De faciliteiten zijn er duidelijk op vooruit gegaan. En de gastvrije sfeer is nog steeds geweldig! Het is een camping in ontwikkeling en dat belooft veel goeds voor de komende jaren. Als je jezelf van de camping met het gezellige terras (met lokale drankjes en huisgemaakt gebak) weet los te maken, kun je prachtige wandelingen in de omgeving maken (o.a. Traumschleifen). Op 30 minuten rijden is de prachtige stad Trier een bezoek waard.
Voor ons staat vast dat we hier vaker zullen terugkomen!
Sehr nette Betreiber, super schön am Wald mit Bachlauf gelegen. Einfach ein sehr lauschiges Plätzchen. Super Atmosphäre und tolle Wander und Radwege.
Book your stay
Spend your
holidays with us
You want something special?
Book a night in a wine barrel, kota, caravan
or a luxury tent with a loved one!
Book now