Who we are?
About us
Four idealists from Amsterdam that try to make a difference in the world. We felt our own world wasn't changing fast enough and decided to do something about it.
We are inspired by many other communities who found a way to break loose from the established patterns of life and manage to live an alternative lifestyle in harmony with our planet and its inhabitants.
Get to know the four faces of our crew at the bottom of this page and where they came from.
"Daily routine? An office job? We'd rather not! Instead, we've quit our jobs, cancelled our studies, sold our homes and chose adventure."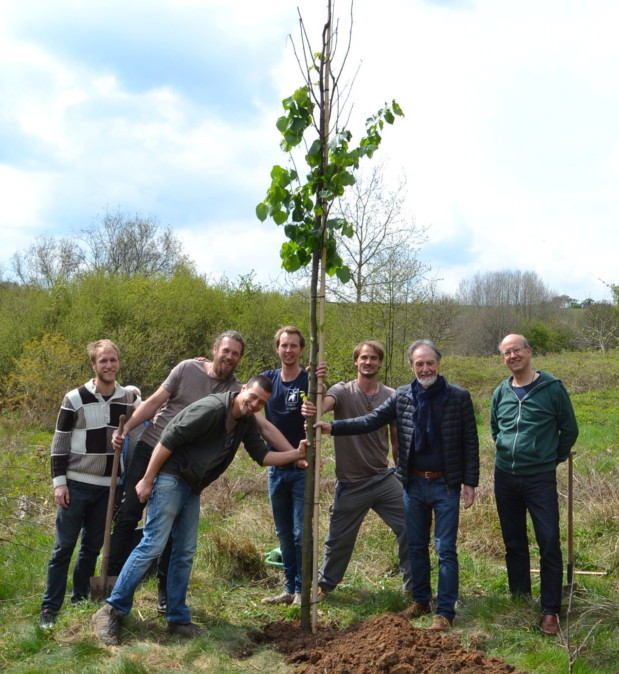 Das Team
Lernen Sie uns kennen
Wim van de Belt
Geschäftsführer, Handwerker, Manager der Manager
Nach 30 Jahren habe ich meine Arbeit in der Bijlmer Schule beendet um "etwas anderes" anzufangen. Daraus wurde dieses Projekt, LandGut Girtenmühle. Zusammen mit meinem Sohn Gidi, unseren Freunden Jurrit, Dominique und Vincent und nicht zu vergessen mit meiner Frau Stella, haben wir diese einzigartige Zusammenarbeit zwischen jung und alt begonnen: Die Begeisterung der Jungen mit meinem Einsatz und der Erfahrung im Bauwesen und auch im Leben allgemein zu vereinbaren. Mein Ziel ist es diesen Ort zu einem Platz werden zu lassen an dem Leute Leben und sich weiterentwickeln können, ein Ort der Reflexion in Ruhe möglich macht und an dem man Intentionen und Träume reifen lassen kann. Wegen dieser unendlichen Möglichkeiten hat LandGut Girtenmühle das Potential eine Oase inmitten dieser bizarren Welt zu werden und unseren Wunsch zu erfüllen ein Gleichgewicht zwischen Planet, Menschen und Profit herzustellen.
"Handeln ist gefragt."
Gidi van de Belt
Technology, Finance
Your actions determine who you are. After I graduated in physics and got a job, I came to realize that I want to do more for people and nature than that I would achieve in an office job. Then I made the radical decision to start for myself and move abroad. My dream to create a place where people live in peace, where would be taught how to live more sustainable with regard to personal life style and this planet with all its beautiful flora and fauna, would come true. A place where lectures, workshops and seminars will be given and where everyone treats each other and the planet with respect. Doing the right things to inspire others and to enable sustainable and conscious live styles, has resulted in the fact that I'm happier than ever.
"If you can dream it, you can do it."
Vincent Rentenaar
Campsite, Tourism, Promotion
To be able to turn a piece of land into my own canvas, enabling me to stimulate the creativity of others and myself has been my dream for years. I never thought this goal would come this close in such a short period of time, special thanks to the gents on this page! This place has been a source of inspiration and unbelievable motivation and I would love to share it with everyone who reads this. I intend to fully focus on my dream after completing the start-up phase at LandGut Girtenmühle by collaborating with artists in several interesting projects. Any good ideas? Know some people we should know? Please, contact us!.
"Good ideas stay good ideas until you execute them."
Dominique Brouwer
B2B, M&O, Events
My study (Criminology) kept reminding me of what's wrong with this world. After I went down the rabbithole by watching hours and hours of documentaries, my conclusion was that we need to change our ways. We founded KnowledgeMatters to inform people about what's going on. Luckily, we found Wim, who shares our vision. He granted us the possibility to radically change our own lives; this is why I joined in. My personal goal at Girtenmühle is to have a paradise in which we can organise events, workshops and lectures, to spread knowledge and awareness, to change lives and livestyles. But also, to create a loving community in which we can all live and rest in peace.
"Only those who attempt the absurd can achieve the impossible."
Book your stay
Spend your
holidays with us
You want something special?
Book a night in a wine barrel, kota, caravan
or a luxury tent with a loved one!
Book now